silver eagle dixie chopper - $5800 (auburndale)
Date: 2012-05-30, 9:56AM EDT
Reply to:
rzztr-3046393843@sale.craigslist.org
DIXIE CHOPPER SILVER EAGLE SERIES MODEL 2744. I bought it new just over a year ago 5/24/11 it still is under warranty 3 years engine, bumper to bumper, and deck spindle hub. Lifetime on everything else. It has a 27hp generac engine with only 18.8hrs on the mower total, it also has a 44" deck which will fit through a fence gate. The mower is in great shape and has only been used to mow my own lawn. I paid $7400 for it and I'm asking $5800. Any question contact Mark at 863-860-7109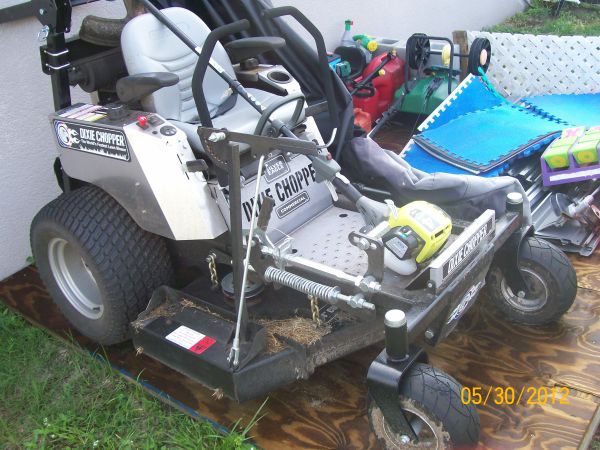 _________________
G & G   Lawn Care

Mowers:
Toro Z-Master2000 48" Toro Grandstand 36" Toro Turfmaster 30"
Blowers:
Stihl BR 600 Stihl BR 600 Stihl BR 200
Trimmers:
Stihl FS 110 Stihl FS 100 Stihl FS 90
Edgers:
Stihl FC 75 FC 90 Echo BRD 280 
Pole & Chain Saw:
Stihl HT 75 MS 181
Hedge Trimmer:
Stihl HS 45 HL 45
With Youth You Learn, With Age You Understand


Similar topics
---
Permissions in this forum:
You
cannot
reply to topics in this forum