Complete Lawn Setup - $5500 (Land O Lakes)
Date: 2012-04-02, 4:53PM EDT
Reply to:
brswr-2936581888@sale.craigslist.org
[Errors when replying to ads?]
Selling my complete lawn setup......
Triple Crown 5x8 trailer, new lights and tires, spare tire and reinforced gate for heavy mower
2008 Toro 52inch COMMERCIAL Z-Master zero turn, new tires, belts, mower has 705 hours
Stihl fs90 trimmer
Stihl gc 90 edger
Stihl br 600 backpack blower
Stihl hl 100k hedge trimmer (all 4 bought brand new from al's lawn car in march)
1 orange cone
Brand new spool of weedeater string
5 gallon gas tank for mix
3 ready mix for gas
10 edger blades......
1 gallon sprayer
Round Up Pro 2.5 gallon
2 extra front tires for mower
extra oil, grease etc...
This setup is COMPLETE , all you need to start your own lawn care business!!!
This is a complete setup asking 5500$ for everything.....
TEXT me or CALL AND LEAVE A MESSAGE and I will get back to you....not looking for any trades just cash!
813-990-7012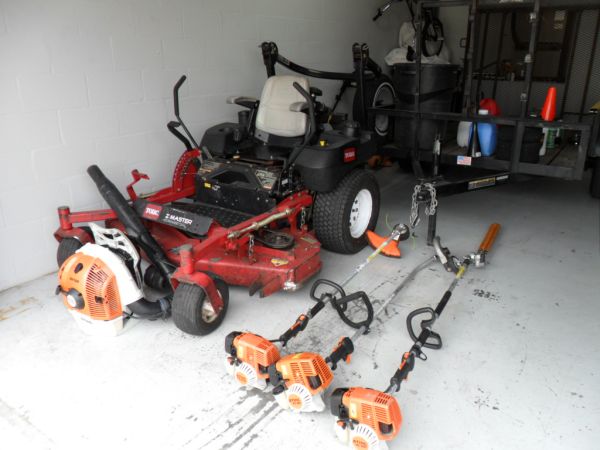 _________________
G & G   Lawn Care

Mowers:
Toro Z-Master2000 48" Toro Grandstand 36" Toro Turfmaster 30"
Blowers:
Stihl BR 600 Stihl BR 600 Stihl BR 200
Trimmers:
Stihl FS 110 Stihl FS 100 Stihl FS 90
Edgers:
Stihl FC 75 FC 90 Echo BRD 280 
Pole & Chain Saw:
Stihl HT 75 MS 181
Hedge Trimmer:
Stihl HS 45 HL 45
With Youth You Learn, With Age You Understand


Similar topics
---
Permissions in this forum:
You
cannot
reply to topics in this forum