Cub Cadet LTX1046VT(V-Twin) - $975 (Land O Lakes)
Date: 2012-01-22, 7:35AM EST
Reply to:
sale-xpkba-2799750235@craigslist.org
Cub Cadet LTX1046VT-Briggs V-TWIN-Only 47 hours-Like new-$975
23 HP Cub Cadet Professional Series V-Twin engine, powered by Briggs & Stratton for longer engine life, quieter operation and better ride.
Full-pressure lubrication w/spin-on oil filter. Easy access makes routine maintenance of your riding lawn tractor quick and easy.
Hydrostatic transmission w/cruise control provides your riding mower with a durable, reliable power and a smoother ride.
46" QuickAttach™ deck.
Exclusive Smart Jet™ Deck Wash System. High pressure water cleans out grass and debris build-up under the deck of your riding lawn tractor.
RevTek™ Reverse Mowing Technology allows mowing in forward or reverse until the operator leaves the riding lawn tractor seat, turns the key back to normal or turns off engine.
Electronic fingertip engagement for smooth operation of deck or attachments
Location: Land O Lakes
it's NOT ok to contact this poster with services or other commercial interests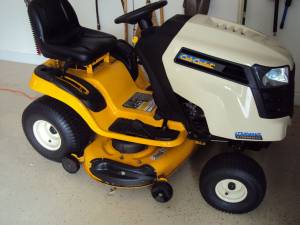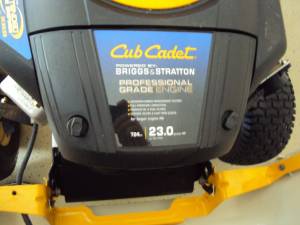 _________________
G & G   Lawn Care

Mowers:
Toro Z-Master2000 48" Toro Grandstand 36" Toro Turfmaster 30"
Blowers:
Stihl BR 600 Stihl BR 600 Stihl BR 200
Trimmers:
Stihl FS 110 Stihl FS 100 Stihl FS 90
Edgers:
Stihl FC 75 FC 90 Echo BRD 280 
Pole & Chain Saw:
Stihl HT 75 MS 181
Hedge Trimmer:
Stihl HS 45 HL 45
With Youth You Learn, With Age You Understand

---
Permissions in this forum:
You
cannot
reply to topics in this forum