JOHN DEERE 54" ZERO TURN LAWN MOWER - $4300 (Wesley Chapel)
Date: 2011-10-15, 9:36AM EDT
Reply to:
sale-smrcr-2607311383@craigslist.org
JOHN DEERE Z445-54 Zero Turn Lawn Mower. Mower has just over 11 hours on it and is less than 1 year old. In perfect condition. Mowed the lawn 6 times. Situation has changed and must sell. Comes with a 4 year extended warranty. Call 813-453-3631 after 4pm for more info.
John Deere ZTR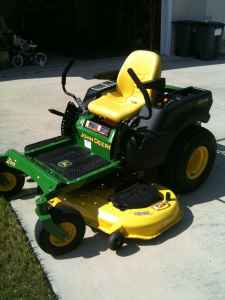 _________________
G & G   Lawn Care

Mowers:
Toro Z-Master2000 48" Toro Grandstand 36" Toro Turfmaster 30"
Blowers:
Stihl BR 600 Stihl BR 600 Stihl BR 200
Trimmers:
Stihl FS 110 Stihl FS 100 Stihl FS 90
Edgers:
Stihl FC 75 FC 90 Echo BRD 280 
Pole & Chain Saw:
Stihl HT 75 MS 181
Hedge Trimmer:
Stihl HS 45 HL 45
With Youth You Learn, With Age You Understand


Similar topics
---
Permissions in this forum:
You
cannot
reply to topics in this forum