CUB CADET 104 - $1800 (hudson)
Date: 2011-08-20, 9:48AM EDT
Reply to:
sale-jsrep-2556535347@craigslist.org
1967 cub cadet 104 ,10 hp, complete rebuild, to many parts to list. You can have a 38 inch deck or a 44 inch deck, both decks are in very good condition, tight spindles, new belts ,sharp blades. The tractor is a 3 speed stick. Any questions pleas call 727-863-6474. Thank you for looking. We also have a 124 cub cadet that needs to be put back together.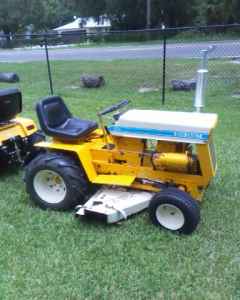 _________________
G & G   Lawn Care

Mowers:
Toro Z-Master2000 48" Toro Grandstand 36" Toro Turfmaster 30"
Blowers:
Stihl BR 600 Stihl BR 600 Stihl BR 200
Trimmers:
Stihl FS 110 Stihl FS 100 Stihl FS 90
Edgers:
Stihl FC 75 FC 90 Echo BRD 280 
Pole & Chain Saw:
Stihl HT 75 MS 181
Hedge Trimmer:
Stihl HS 45 HL 45
With Youth You Learn, With Age You Understand

---
Permissions in this forum:
You
cannot
reply to topics in this forum