tampa bay craigslist > pasco co > for sale / wanted > farm & garden
CRAFTSMAN GT5000, Riding GARDEN TRACTOR 54 - $950 (south Sarasota)
Date: 2011-03-22, 11:59PM EDT
Reply to:
sale-mpvec-2281126865@craigslist.org
[Errors when replying to ads?]
Awsome Craftman lawn riding tracter GT5000 for sale. Everything works, lights, 22 HP motor, and 54 inch cut, Just lowered price and its firm! ? 941 249 1020
This is what similars to mine are worth new at stores:
http://www.sears.com/shc/s/p_10153_12605_07128947000P?sid=IDx20070921x00003a&ci_src=14110944&ci_sku=07128947000P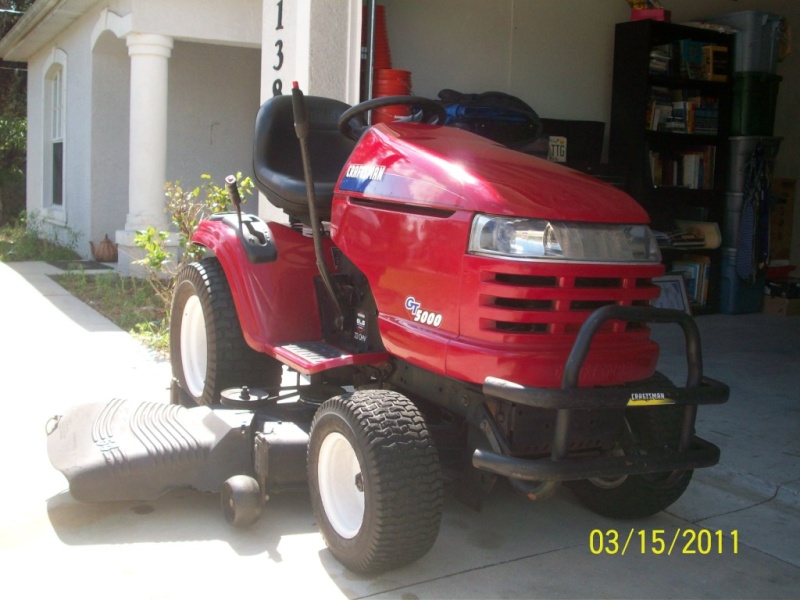 _________________
G & G   Lawn Care

Mowers:
Toro Z-Master2000 48" Toro Grandstand 36" Toro Turfmaster 30"
Blowers:
Stihl BR 600 Stihl BR 600 Stihl BR 200
Trimmers:
Stihl FS 110 Stihl FS 100 Stihl FS 90
Edgers:
Stihl FC 75 FC 90 Echo BRD 280 
Pole & Chain Saw:
Stihl HT 75 MS 181
Hedge Trimmer:
Stihl HS 45 HL 45
With Youth You Learn, With Age You Understand

---
Permissions in this forum:
You
cannot
reply to topics in this forum